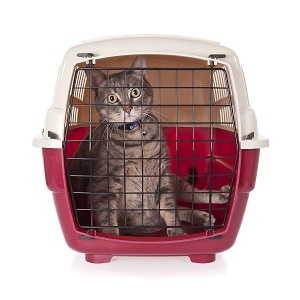 While some people may consider it cruel to cage up your cat it's actually a matter of safety for both you and your cat. For example if you were driving and your cat suddenly jumped on to you, or it got trapped underneath your feet and the brake this could cause a serious accident.
Pets can sometimes be unpredictable and for reasons like those mentioned above and more it is always safer to use a cat carrier when transporting your cat to another destination such as the vet.
When choosing a cat carrier you will find there are hundreds of different ones on the market to choose from. Pick one that is suitable for both you and your cat and remember you will need a place to store it when it is not in use.
A good cat carrier should be both safe and comfortable for your cat, it should have enough room inside for a fully grown cat to have some freedom of movement, and your cat should be able to both stand up and turn around in side its cage. Air holes on all sides are also needed as this allows the air to fully circulate and your cat to look out.
To make your cat feel comfortable and safe in its carrier it's a good idea to put a blanket in side of it, if your cat has its own blanket on its bedding then that is ideal as the cat will be able to recognize the smell, this should help your cat to feel a little bit safer. The first time you use your cat carrier it is also a good idea to put down some newspaper in side just incase your cat has any "accidents".
It can be awkward getting a fully grown adult cat into its carrier but you can sometimes trick them with food or treats, kittens on the other hand are much easier to get in to one as you can generally just pick them up and place them in side with out to much hassle.